Planning on relocating your office?
Moving your office is a big project, which requires good preparation. There are many things to keep in mind during an office move, and in order to stay up to date on how it all goes, it's a good idea to have a checklist. With a checklist, you have more control during the process, and you can easily see what's already done and what still needs to be done. Make sure to start on time so you don't have to stress.

Checklist:
Set a budget for moving your office
The first thing to consider when moving your office is how much it will cost, and how much you are willing to pay for the move. Estimate how much will it cost to hire a moving company, cleaners, or buying new furniture etc.
Set a deadline and assign tasks to your employees
Set a deadline, or a set of deadlines, for when things need to be done. Create a list of tasks that need to be done and assign the tasks to your employees. An office move is extremely stressful, and you can't handle it all yourself. Assigning tasks to your employees will help you get everything done much more efficiently.
Communicate with your employees
Give your employees clear reasons for the move and explain what you want to achieve and how they'll benefit from it. It's important to keep your employees updated of the moving plans – have regular meetings to ensure everyone knows what they need to do and when. Good communication is the key to avoid worries or concerns.
Hire Movers
Create a list of different moving companies, and make sure you investigate them thoroughly before you hire any of them. Get quotes and compare services across the companies, and make sure it matches your budget. You should also ask about insurance coverage options to protect your belongings.
Decide how to do with the furniture and electrical equipment
Figure out how to do with furniture – will you bring your existing furniture to the new place, or will you replace them with new furniture? Some coworking spaces and serviced offices provide all the furniture you need.
Computers and other electronics are sensitive devices, and they need to be packed very carefully. They should be wrapped in individually in thick moving blankets or bubble wrap. Don't place them in boxes.
Also remember to only use a registered Master Electrician for your electrical needs. They are certified, insured and will get the job done professionally with peace of mind.
Give your employees an allocated desk number and mark the boxes
Give each employee an allocated desk number and tell them to number all their belongings, such as boxes, computer screens, furniture etc. If you mark your boxes, you'll find it easier to locate items when you need something. Make sure to mark both tops and sides to make it easier to find.
Inform people about your office move
The first and most important thing to do is to update your website. You also have to notify suppliers, clients, the post office, your creditors and the bank etc. A good idea is to make a list of all the people or companies you do business with and everywhere you advertise.
Why is preparation important?
Moving your office can be one of the most stressful tasks you have to deal with as a manager. You have to run your business as usual, even though you don't really have a place to be at the exact moment. Also, if not carried out in a good way, you might have to deal with complaints from your employees.
If you are well prepared, you can run your business as usual and not letting the move affect the business's performance as much. To handle the move professionally and to show your employees that you are well prepared and care about them, will make them appreciate you and look up to you.
Another way to impress your employees is to create personalised desk labels for each employee, with name, picture, job title and company logo. It is the small things like this that make the employees appreciate you and enjoy working for your company.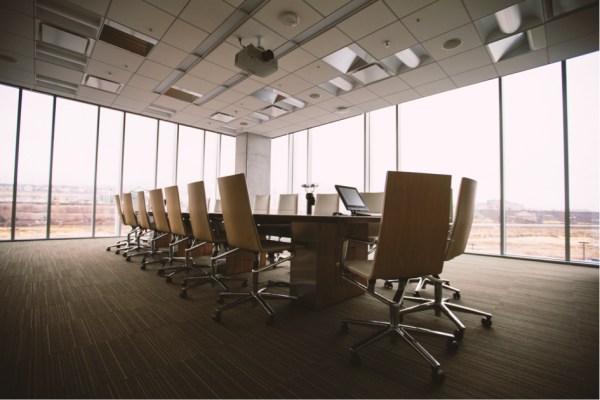 Relocating your office is a complex process, no matter how big or small it is. To make the relocation as smooth as possible, you should hire an office mover. An office mover can plan, pack and move your office according to your terms, and you can focus on running your business instead of doing all the heavy work yourself.
When it comes to finding the right office mover for your company, there are some things you should take into consideration.
Check the experience

Has the company helped clients like you before?
Do they have any reviews?

Review the Services

See if the company has services that match your needs.

Request Moving Quotes

Make sure to request a quote for your move. Every move is different in terms of distance, amount of weight, and number of items being moved.
What can World Moving & Storage help you with?
World Moving & Storage provides a full service for office moving, and we offer relocation services for offices of all sizes. Apart from that, we also offer storage services, where you can store your furniture and other items until you need them delivered to your new office space. World Moving & Storage has been nominated for, and won, several business awards over the years. Contact us or request a quote today.